Goblin Valley, straight out of Mars. A basic visitor´s guide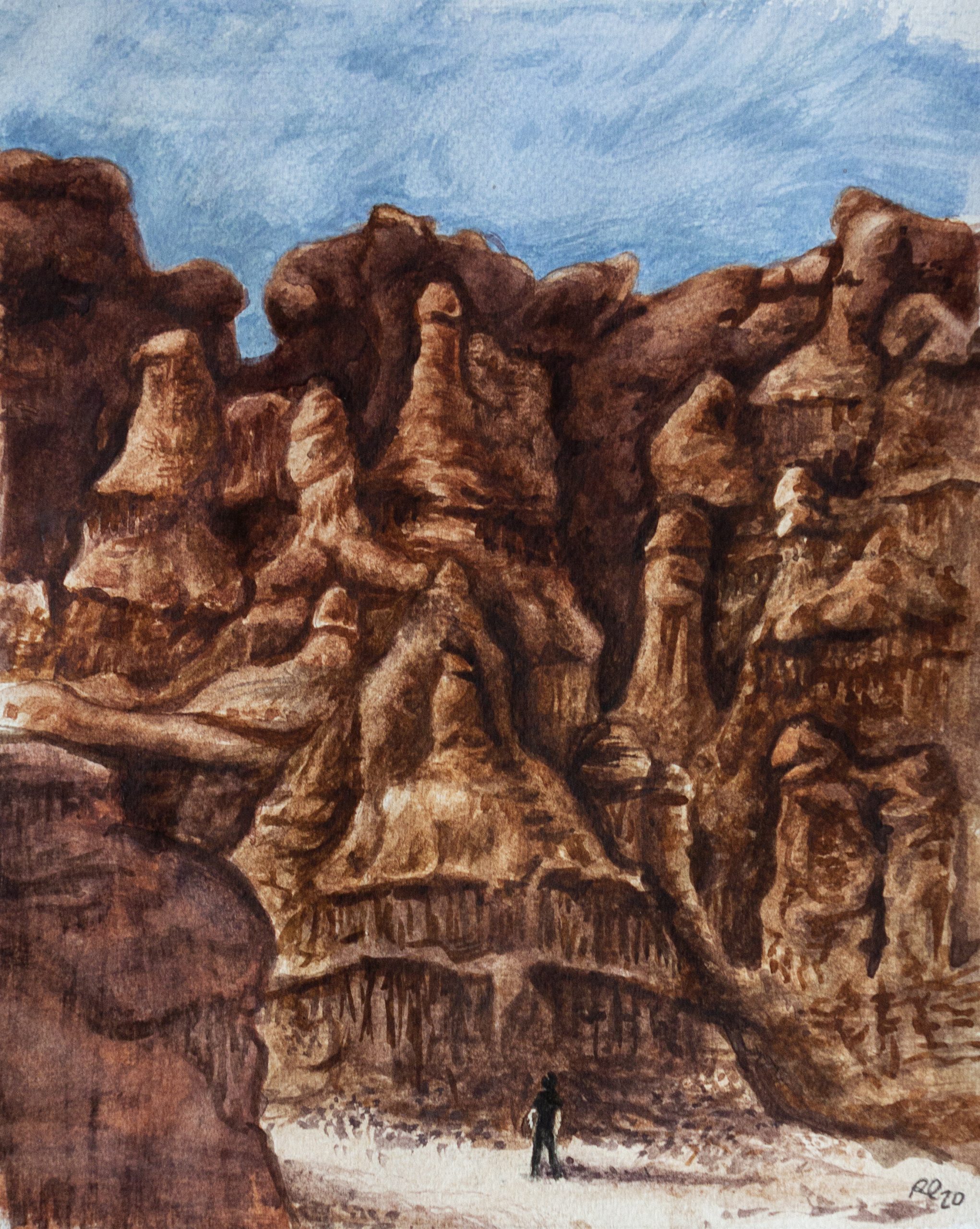 If you want to read in Spanish click here
Formations of rock, created and carved by wind and water. Sandstone perfectly situated and balanced to resist the passing of time and geological forces. Rocks that appear to be from another planet or sculpted in terracotta. Goblin Valley State Park in the state of Utah amazes and invites you to open your mind and senses. You cannot help but to stare at the forms, finding figures in them, like elves, mushrooms, soldiers, animals and even skulls.
During the prehistoric period, Lake Bonneville covered the majority of the area that now makes up the states of Utah, Idaho and Nevada. The lake was over a thousand feet deep and stretched over 37,000 square miles. Thanks to this unique history, Utah is one the states with the most natural beauty and diversity in the United States.
Utah contains a multitude of state and national parks suck as Zions, Bryce Canyon, Arches and Canyonlands.
Like Being on Mars
Goblin Valley State park is the perfect setting for a science fiction film. It takes you to the Red Planet or some post-apocalyptic scene. In fact, it has been the location for several films, among them, The Tree of Life by Terrence Malik, starring Brad Pitt, or Galaxy Quest, a Star Trek parody, starring Tim Allen and Sigourney Weaver.
Goblin Valley has three main trails: Carmel Canyon, Curtis Bench and Entrada Canyon. You can lose yourself in any one of them and get close to the sandstone formations. There deeper in you go, the "goblins" and "mushrooms" become taller while you get smaller, as if you were Alice wandering through Wonderland.
Experience true silence
Another thing that impressed me most in Goblin Valley was the silence. The park is so far removed from civilization that all you can hear when you go into the canyon is the sound of your own breathing. Each path invites you to get lost amongst the rocks and concentrate on your own sensorial experience. No matter if you go with other people, the formations absorb all sound and around every bend you leave a little more of the outside world behind.
Besides hiking, in Goblin Valley you can ride mountain bikes, atv's and go fishing.
Very close by, about 15 minutes down the road, is Little Wild Horse Canyon, a spectacular slot canyon that is definitely worth the small detour.

How to Arrive?
Goblin Valley State Park is found within the San Rafael Swell area of southeatern Utah, between the small towns of Hanksville and Green River. It is quite easy to get there from Salt Lake City, with direct flights from Mexico or with a layover in Las Vegas. From there you just have to rent a car and travel three and a half hours southeast.

¿Where to stay?
You can camp in Goblin Valley for 30 dollars a night plus the additional entrance fee of 15 per vehicle. There are also a few hotels nearby in Hanksville and Green River.
¿When to Go?
We went at the end of February and the weather was almost perfect. There were patches of snow on the ground, the sky was clear and sunny, making it enjoyable to take in the scenery.
Some recommend visiting from March to July and from September to November. The temperature can get up to 105 degrees F in the hottest months.
Cost
The entrance fee is valid for two days.
Personal vehicle: $15Motorcycles, Bicycles or Pedestrians: $10.
Goblin Valley needs to be on your list if you are going to Utah anytime soon, as well as the nearby National Parks.