Prãna, responsible and sustainable Baja-Med cuisine in La Paz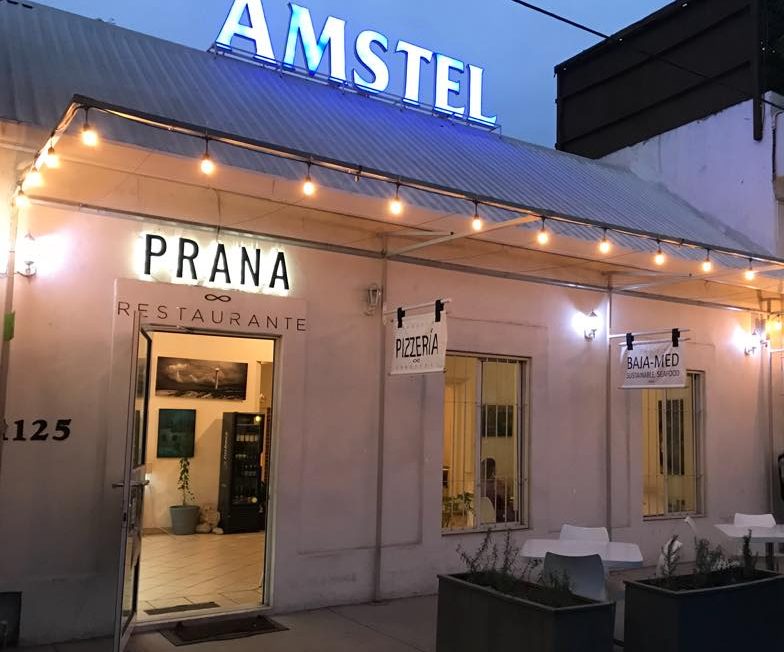 Si quieres leer en español click aquí
Prãna is a restaurant that offers Baja-Mediterrean cuisine with the objective of helping with the conservation and protection of marine life in La Paz, Baja California Sur. The owner and chef, Christian Liñán-Rivera, is also a marine biologist and with Prana his aim is to fuse the spirit of conservation biology with a gastronomic movement that is conscious, responsible and sustainable.
All of the seafood and fish that Prana serves are purchased from local businesses that are certified for sustainability and that guarantees the legality of their products used in kitchens to protect the ocean and avoid illegal fishing, which is depleting the populations of certain maritime species in the Gulf of California.
The food at Prana is not only sustainable but creative and innovative as well. Their fusion of traditional indegenous food from Baja California with mediterranean gastronomy, brought to Baja primarily by the Jesuits, makes their approach solid and interesting. On their menu you can find fish and seafood mixed with pasta, paninis, pizza and salads.
Gallery
In a 200 year old remodeled house this fusion of European and local cuisine is created and the space gives life to Prana, as well as being a space that functions as a gallery exhibiting local urban art from La Paz. The walls of the restaurant display work without cost to the artists and are available for purchase.
What to eat?
The taco gobernador is the most famous taco of Baja. Prana's version is a delicious interpretation with a ton of flavor and texture that succeeds in adding mediterranean elements. The shrimp is sauteed in butter with california chiles, chile poblanos, onion, garlic and tomatoes in olive oil. They are served on handmade flour tortillas and melted mozzarella cheese. Another feature that distinguishes these tacos is that they are accompanied with a greek salad, cucumber, black olives, feta cheese and vinaigrette. They are a true delicacy and a clear example of the Baja-Med cuisine that Prana offers.
The gourmet artisanal pizzas of Prana come from an original La Paz recipe and are thin and crunchy. Many styles are covered, from the classics with serrano ham or shrimp to vegetarian options.
The artichoke pizza is a real surprise, ideal for accompanying another dish. The mix of artichoke hearts with mozzarella cheese, green olive and blue cheese with Prana's pomodoro sauce is a delight.
The arrabiata spaghetti was our favorite dish. With pasta al dente, house-made pomodoro sauce, capers, green olives, garlic and crushed red peppers, all flame broiled in red wine, it is a strong offering from Prana. It can be served with shrimp or clams. The portion is ample and ideal for sharing. Believe me that it is a "must-try" during your next visit to La Paz.
At Prana you will dine deliciously and completely sustainable. When you visit or if you have already been, tell us about your experience.
_______________________________
Where?
Calle Francisco I. Madero 1125 Zona Central, Zona Comercial, 23000 La Paz, B.C.S.
Telephone. 612 128 9805
Social Media. Facebook e Instagram
Translation by Ryan LaBonte