Anzuelo Cocina del Mar, a new gastronomic concept in La Paz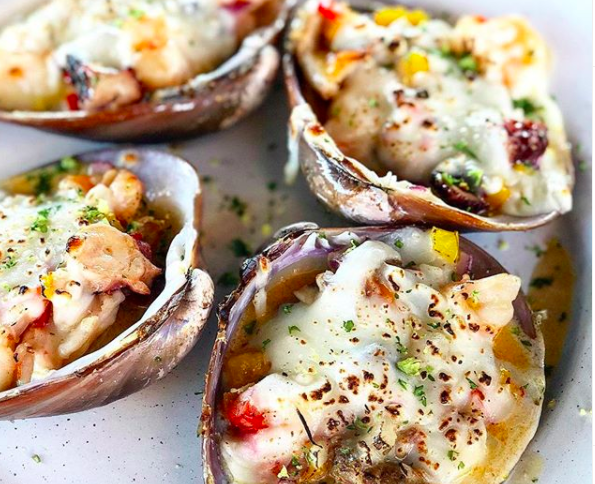 Si quieres leer en español clic aquí
If you are looking for a spectacular and exclusive waterfront view of the boardwalk in La Paz, Baja California Sur, you will find it at Anzuelo Cocina del Mar. As you dine in an attractive glass house sitting over a pier of the marina, you will find the peace and beauty that are the namesake of this town called La Paz. Anzuelo's gastronomical offering is the perfect pairing to the view. The fresh seafood and fish from the region are the focal point of this exquisite experience of taste and texture.
Chef Paco Martinez, a native of Mexico City, is currently in charge of culinary operations at Anzuelo. He uses his experience in Spanish and Mediterranean cuisine to reinvent dishes created by his predecessors all while respecting the traditions of this seafood gem that has been serving mariscos for over four years in the heart of La Paz.
Respecting the sea and its products is as important to Paco Martinez as playing with novel ingredients to highlight freshness without hiding the original flavors of the food. He is also very aware of the autonomy of the flavors of the sea, of their variety due to distinct diets and the spectrum of their texture due to natural influence.
Anzuelo's cuisine is without pretense but with a lot of feeling and a clear vision to reinterpret traditional flavors with a gourmet touch. All of Anzuelo's products come from local fishermen and markets adding to the freshness of its cuisine.
What to Eat?
Stuffed clams. Chocolata clams stuffed with shrimp, octopus and a white wine based cream sauce of cheese au gratin. The wine helps to pop the flavors of the mixture of seafood and cheese and give it that perfect creamy texture. An ideal dish to start your experience at Anzuelo and get to know their gastronomical concept.
Sashimi de Cortez. Fish of the day, avocado, red onion, habanero chile, and house sauces. The key to a good sashimi is always the quality of the fish. Try it and you won't be disappointed by their careful selection of the day's catch.
Anzuelo tostadas. These are a genuine delight. If you want to try various options in only one plate, this appetizer sampler is perfect for you, with these four Anzuelitos tostadas:
Tostada balandra. Fresh tuna, grapefruit, jicama, and crushed avocado. I loved the play of textures and flavors. The tenderness of the tuna and the avocado with the contrast of the jicama make it a very special tostada.
Tostada camarona. Shrimp, bruja salsa, red onion and lime. We loved it for its simplicity that allows room for the flavor of the shrimp.
Tostada Thai is a creation of chef Paco Martínez. It is a flavor filled surprise to the palate.
Camarones roca. Tempura shrimp with dressing. Ideal as a starter, accompanied with a good drink or cocktail of the house.
What to Drink?
Their cocktails are really good. Don't miss out on their margaritas or mezcal choyero, featuring orange concentrate, mint, chamoy and rimmed with chile powder. They also have craft beer, brandy, rum, tequila and much more.
Desserts. We know that all culinary experience must close with a great dessert. The classic here is the chocolate volcano, but I fell in love with the flan with vanilla from the Papantla region for its simplicity and its masterful execution.
_______________________________________________________
Where? General Manuel Márquez de León 2415, El Manglito, 23060 La Paz, B.C.S.
Social Media. Facebook e Instagram
Telephone. 6121252532
Si quieres seguir leyendo sobre lugares en La Paz, Baja California:
Prãna, cocina Baja-Med responsable y sostenible en La Paz
Los mejores tacos, burritos y aguachile en Mc Fisher, La Paz